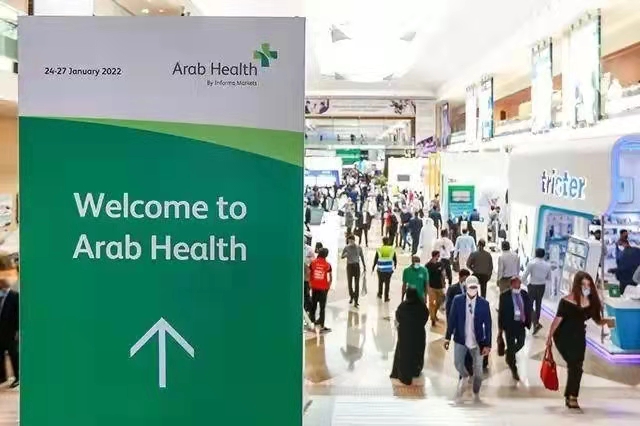 The 47th Arab Health was held at Dubai World Trade Centre from January 24th to27th, 2022. Arab Health Exhibition has always been one of thelargest, most comprehensive, and most excellent worldwide professional exhibitions. Nearly 300 medical companies from China has participated in this exhibition, and showing their products at the exhibition together with other outstanding companies from different countries.
During the 4 days of the exhibition, Hundreds of customers from all over the worldcome to the booth of Diacegene. Most of them are very interested in our SARS-CoV-2 Antigen Rapid Self test Kits. The latest generation of Homogeneous Flourescent Dynamic Assay System and the Biochemistry System which we bring to the exhibition also attract many customers' eyes..
The first experience of attending the overseas Exhibition for the young International Trade Team of Diacegeneis very successful! The team members accept the challenge on professional ability, and show the best side of our company to our customers all over the world. The team members have positive interactivities with the visitors and give nice impression to our customers onthe products and our services. Visitors all leave their business card to us,and give us very constructive suggestions.
Arab Health 2022 is a completely new opportunity for Diacegene to step into overseas market. We would like to build more reliable business relation ship with more professional customers all over the world, expand our brand to more countries all over the world, and develop our products and services with this opportunity. "Innovation Serves Human Health", moreover, Diacegene will continuously devote ourselves into the research and development of POCT field, and contribute our power to the medical industry and human health filed!